Grainger High School
Class Of 1969
In Memory
Bill Bartholomay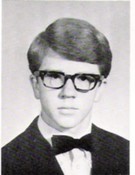 Henry William "Bill" Bartholomay, 57, died unexpectedly Monday, May 25 at home in Durham. Bill was born October 10, 1951 in Charlottesville, VA to Henry William and Mary (Connolly) Bartholomay. Bill's family moved from Charlottesville to Camden, SC and later to Kinston, NC, where he graduated from Grainger High School in 1969. He then became a loyal Wolfpack supporter as he attended North Carolina State University where he graduated in 1973 receiving a B.S. in Mathematics Education and later, a master's degree from NC State in Mathematics Education in 1979. Bill met his wife, Dottie during college in 1971, and they married August 10, 1974 in Washington, D.C.
Bill started his career with Durham Public Schools in 1974. From teaching, to principalship, to the central office with magnet programs and student assignment, Bill was passionate about the education of Durham's youth. Active as a humanitarian in Durham, Bill also served on numerous committees and boards throughout the city including Concern of Durham, Brightleaf Music Workshop, Project Graduation and the session and nominating committees at Westminster Presbyterian Church, where he was a member and Elder for over 30 years.
Bill is survived by his wife, Dorothy Wehmeyer Bartholomay, his son Brian Bartholomay of Washington D.C., his daughter Laura Bartholomay Childs, son-in-law Geoffrey Childs and grandson Grant Childs of Fort Hood, TX; parents Bill and Mary Bartholomay of Richmond, VA; siblings Eric Bartholomay of Coventry, R.I., Howard Bartholomay of Bristol, VA and Mary Lynn Bartholomay Taylor of Richmond, VA.
Funeral services will be 11:00 AM Monday from Westminster Presbyterian Church with the Revs. Chris Tuttle and Betty Berghaus officiating. Private cremation will follow the funeral.
In lieu of flowers donations in Bill's memory may be made to Housing for New Hope, Urban Ministries of Durham or Ronald McDonald House. Arrangements are with Hall-Wynne Funeral Service. On-line condolences: www.hallwynne.com. Select Obituaries.